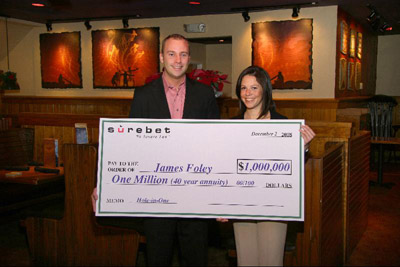 Tampa, FL – January 5, 2009 – SUREBET Prize Indemnity (SUREBET) announces a recent $1,000,000 Payout during a local fundraising golf tournament.
When James Foley headed to the Outback Steakhouse™ WE Golf Tournament his intention was to support a local fundraising organization, have a fun day of golf with some friends, and hopefully hit some decent shots. But as a last minute replacement, the one thing he didn't expect was that he would hit the most amazing golf shot of his life.
When his name was drawn for the Million Dollar Shootout, he felt a bit nervous but mostly excited. One of ten shooters, James took his normal stance at the ball and hit the shot from just outside 165 yards with his Titleist® 690CB 7-iron. James, a 1 handicap, admittedly didn't have any expectations, so he decided to just go out there and give it his best.
"All I kept telling myself was just to put a good swing on the ball and let fate take over," he explained. And his best was more than good enough.
Everyone watched intently as the ball flew with a high draw from right to left. The crowd erupted as the ball landed slightly past the hole, only to spin back and fall into the cup.
"I couldn't believe it!" James exclaimed.
The other golfers and spectators were just as impressed with the miraculous shot. Everyone immediately offered "high fives" to congratulate the new $1,000,000 winner!
Given the choice of $25,000 a year for 40 years, or a lump sum cash payout – James chose the lump sum.
"After speaking with a few advisors, I came to realize that the lump sum made the most financial sense," James said.
And now that he's received the money within 30 days of his life changing shot, what does he plan to do with the money?
"With the today's economy, I'll take care of my debts, go on vacation, and then invest the rest."
Mike Stalls, President of Tournament Promotions, and a decade-long SUREBET Customer, was delighted with the tournament's outcome.
"Considering this was a first-year event, I couldn't be happier with the results we had from our tournament," he said. "Next year, we expect to build on what we've accomplished this year." All in all, Stalls said the day was "a 1st class experience" with all the money raised going to a worthwhile charity.
Stalls knows that when it comes to large prize contests you have to work with a company you can trust. And when dealing with insuring a prize – you need a company that has the financial resources and integrity to make the big payoffs. That's why Stalls works with SUREBET, his Hole in One Insurance provider of choice.
"I've been running tournaments for over 20 years now, and working with SUREBET gives me the confidence I need, because I know they're going to be there when the time comes."